Event Planning: 5 Menu Tips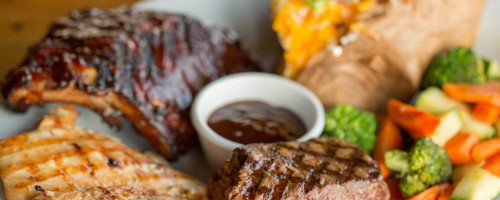 When planning a wedding, meeting, bar mitzvah or other special event, one of the most stressful – and expensive – planning details is choosing the menu. Lucky for you, there are plenty of great options for a local catering facility. The Inland Empire has more than its fair share of such venues and Pomona Valley Mining Company is one of the best.
Below are some tips to help you select the menu for your next special event:
1) Buffet vs. Plated
This is a common dilemma for those putting together a menu for a special event. There are certainly benefits to both options. A plated dinner may feel a bit more formal while the buffet usually offers more choices.
Some are surprised to learn that a buffet is often more expensive than a plated dinner, due to the amount of food served, length of time the buffet is open and the facility not having portion control. The best Inland Empire banquet facility, Pomona Valley Mining Company, offers wonderful options for both plated and buffet style menus.
2) Special Diet Needs
While it is not necessary to make accommodations for your guest's likes and dislikes, it is a good idea to make arrangements for those who have strict dietary requirements, such as diabetics or those who keep kosher.
Most facilities will allow you make arrangements for such guests with only a small additional fee.
3) The Picky Eaters
If you know that there are many picky eaters in the group, you might want to opt for a buffet over a plated dinner. This will allow each guest to choose exactly what goes on their plate and, hopefully, will cut down on unsatisfied guests.
Pomona Valley Mining Company has menu options for vegetarians that can be included on a plated dinner or buffet style menu.
4) How Many Guests?
As mentioned above, the cost of the food is usually the most expensive portion of the event. Many of the Inland Empire banquet facilities charge a much higher price for comparable menus offered by Pomona Valley Mining Company.
See our Shop & Compare page to see pricing on plated and buffet events from banquet halls in the San Gabriel Valley and Inland Empire.
5) Universally Safe Choices
One way to handle an event menu is to make choices that are, for the most part, universally safe. These choices include foods that most people will eat. Some examples of safe food choices include potatoes, rolls, chicken, salad and steamed vegetables. Some not-so-safe choices include seafood, sushi, lamb and very spicy selections.
Allow the staff at Pomona Valley Mining Company to help you plan the menu for your next event. They have experience working with all types of groups and can help you make choices that will be best for your budget and will leave your guests full and happy.