Ceremony Music – What You Need To Know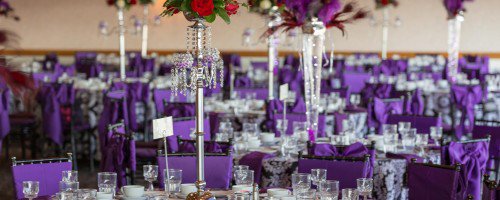 Reception music is usually about having a good time and encouraging an energetic atmosphere. In last month's post we gave some great guidelines to keep in mind so that everyone at your reception enjoys themselves. Ceremony music is also about setting a mood and should be selected just as carefully. Here are some thoughts to consider before selecting your ceremony music.
Consider the Venue
If you are getting married in a strict religious venue, you may have a somewhat more limited selection than someone who gets married in another type of wedding location. You also need to consider how sound will carry in the ceremony venue.
You will need to be sure that the sound will carry enough to be heard by all of the guests, but that it will not be so loud as to overwhelm them. An experienced band or other musical professional will be able to help you determine how sound will carry in your selected wedding location. In the Inland Empire there are many wedding locations to select from. Be sure to choose a venue that can accommodate your ceremony music preferences.
How Many Selections?
Most wedding ceremonies will require several musical selections.
Prelude
This is the music that will play as guests enter the venue and are seated. Typically, this music continues until the time that the parents of the bride are seated.
Processional
The processional is music that plays as the wedding party enters the venue. Some brides choose one song for the processional. Others choose one song that plays during most of the processional and then another song that plays when the bride enters.
During Ceremony
Many couples choose a special song or two to include during the ceremony. These songs can be playing during key parts of the ceremony, such as the lighting of the unity candle, or the songs can actually be a feature of the ceremony.
Recessional
This is music that will play as the bridal party exits the venue after the ceremony. Usually, this music will stop once the last member of the bridal party has exited. Then you may choose to play the prelude music again as guests exit.
Be Yourself
Choose music that truly reflects your personality and taste. You do not have to choose "Here Comes the Bride" for the processional. Instead, choose music that sets the mood that you want for the ceremony or that has special meaning to you.
Out here in the Inland Empire, the Pomona Valley Mining Company is one wedding location that has years of experience helping brides make their wedding day perfect. We would be happy to answer any questions you have and assist you whenever possible so that your ceremony comes out just the way you envisioned it. If you're hosting your wedding elsewhere, consider hiring a professional wedding band. They have years of experience and can offer sound advice on ceremony music to match your wedding.
When choosing music for your wedding, remember, that music will help to set the tone for the entire event, so choose thoughtfully.