How to Decorate a Gazebo for a Wedding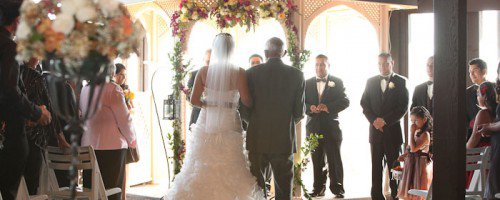 When a couple gets married in a gazebo it contributes to a memorable wedding day and very romantic wedding pictures. But some brides are unsure how to decorate a gazebo for a wedding. Below are some tips to help you get started.
Flowers
Many brides choose flowers as the main feature when decorating a gazebo for a wedding. Flowers are a way to bring in your wedding colors and also a way to add more natural touches to your wedding. You can use a lot of flowers or use them only to provide small splashes of color.
Tulle and More
Tulle, ribbon and other decorative items may also have a place in decorating a gazebo for a wedding. Tulle can be used to soften the look of the gazebo and provide a romantic touch while ribbon may be used as another option for bringing in the wedding colors.
A Table
Many brides have a decorated table placed in the gazebo. This could be used for the unity candle or to hold the instruments of communion. The table may be decorated with flowers or, perhaps, a small candelabra.
Lights
Rope lights, sometimes called snake lights, are a fun way to add lighting to the décor in the gazebo. One idea is to wrap the rope lights in tulle and then wrap or drape them throughout the gazebo. This creates a soft, romantic look.
Some brides opt for very little decoration on the gazebo. Some gazebo weddings, such as those held at Pomona Valley Mining Co. already offer a spectacular view. Some couples feel that no further decoration is needed.