Inexpensive Wedding Favor Ideas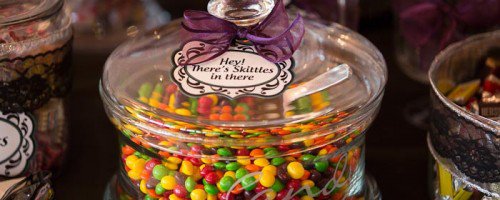 When planning a wedding, there are many details to consider, and each of those details come with a price. For most brides, sticking to the wedding budget is important and finding cheap wedding favors is one way to trim the costs without sacrificing your vision for your big day. Read below for some inexpensive wedding favor ideas.
Seeds
Packets of wildflower or other seeds are a wonderful option, especially for a spring or summer wedding. You can buy the seed in bulk and then place some into small cloth pouches that can be purchased in bulk for just pennies each.
Attach a small card and some ribbon to the pouches and then place one at each table setting. This is a cheap wedding favor that will allow your guests to have a long lasting memento of your wedding day.
Candy
When it comes to inexpensive wedding favor ideas, candy should be at the top of the list. There are many options for these inexpensive wedding favors and it is even possible to have the candy match the color of your wedding.
Jelly beans, Jordan almonds and M&Ms are just a few of the choices for these cheap wedding favors. For a fall wedding, candied apples are a perfect choice. You can buy the apples already made or save even more by making them yourself.
M&Ms come in a rainbow of colors and, if you don't mind spending a bit more, you can buy the candies personalized with your wedding date and even your picture.
Finding inexpensive, small pouches or plastic containers for the candy favors is quite easy. Many dollar stores or mail order catalogs, such as the Oriental Trading Company, have such items for a few cents each.
Picture Frame
Another thoughtful, inexpensive wedding favor idea is a picture frame. Of course, not all picture frames will fit into the cheap wedding favor category, so you will have to do some shopping around to find the best deal. Dollar stores are a good place to start. Also, find some online retailers that will allow you to buy the frames in bulk.
You can place a copy of your engagement photo in each frame or a card containing words of thanks to each of your guests for coming to support you on your wedding day.
Place a frame at each place setting and then drape ribbons in your wedding colors over one corner to complete the look.
Tea or Coffee
Coffee and related wedding favors are fine for any wedding, but are especially appropriate for a fall or winter wedding. Personalized bags of coffee that feature the name of the bride and groom along with the wedding date, can be purchased for about $1.99 each at sites such as www.favorfavor.com. These coffee favors are in beautiful bags and arrive ready to go. This is a unique, inexpensive wedding favor that doesn't require any additional work on the part of the bride.
Do not think that favors have to cost a lot in order to be memorable. Inexpensive wedding favors, such as those listed above, can be just as thoughtful and beautiful as those that cost much more. Be creative and shop around and you'll find cheap wedding favors that look anything but!