12 Reasons to Book a Banquet Facility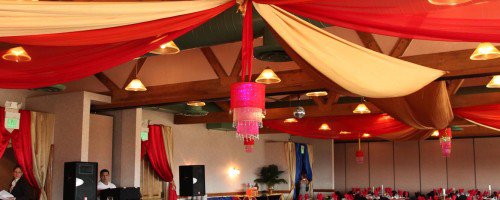 1) Visual Effect
If you try to recreate the beautiful rooms of most banquet facilities, it would cost a small fortune. Leave the décor to the folks who do this for a living. Choose a banquet facility and such décor won't break your budget.
2) Fabulous Menus
Most banquet facilities, such as the Pomona Valley Mining Company, offer exciting menu choices with something to suit just about every taste.
3) Helpful Staff
When you book a banquet facility you are booking their staff as well. You will have several people whose job it is to help make your wedding or event something extra special.
4) Table Settings
For some brides, table settings are one of those small details that can take up more of their time than it should. Book a banquet facility, and they will give you options for some of the most beautiful table setting you've ever seen.
5) No Setup
As a bonus, you won't have to create or set up the table settings!
6) No Clean Up
If you have just spent the last several months planning a wedding or other event, the last thing you want to worry about when it is over is taking out the trash. When you book a banquet facility, you can leave when you're ready and the cleanup will be taken care of by the aforementioned helpful staff.
7) Everyone Will Fit
Have you ever been to a party or dinner where there wasn't enough room for all of the guests? That's not very impressive, right? If you book a banquet facility, they will be sure to put your party in a room or outdoor area that is perfectly suited to the size of your party.
8) Wired for Sound
The best toasts in the world don't mean much if no one can hear them. Banquet facilities are wired for sound ensuring that all of the guests will be able to hear the best man talk about how awesome you are.
9) No One Will Forget to Make the Deviled Eggs
Sometimes, those planning a wedding or other event enlist the help of friends and family. This often results in someone forgetting (or neglecting) to bring what they promised to bring. When you book a banquet facility, no one will forget to make the deviled eggs.
10) No Lost Deposits on Non-Returned Items
When you book a banquet facility, you do not have to worry about counting on someone to return linens, glassware and other items on time.
11) Cooking for 200 the Day Before Your Wedding is NOT ok
Sometimes, the bride or party planner will try to save money by cooking simple meal themselves. When you book a banquet facility, you will not be cooking for 200 guests a few hours before you walk down the aisle.
12) Show and Go
When you book a banquet facility, you can just show up to the event and go home when it's over. The staff will handle everything, allowing you to enjoy the day.